Friends of the University Support One Health and Family Through Planned Gift
Funds will support innovative research for early onset dementia at the Center for Neuroscience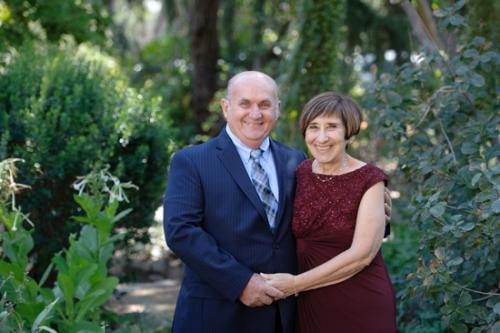 Gary and Camille Lonigan like to say that their charitable remainder unitrust (CRUT) story is a prime example of a child being a role model for her parents.
"My daughter, Joleen, has dedicated her whole life to UC Davis as a nurse and then funded a nursing scholarship," Gary says. "Through her, we came to realize how important UC Davis is, both as a hospital and a school."
As friends of the university, the Lonigans learned how much work UC Davis does in fields close to their hearts—they have a long family history of losing loved ones to Alzheimer's disease, and dementia. They knew that donor support could help elevate essential work at UC Davis Health and the Davis campus.
"We are proud to support UC Davis because the work they are doing today will definitely help the people of tomorrow," Camille says.
At the time, the Lonigans were ready to sell their rental home. Having run an income tax service before their retirement, these experts knew they would lose money through taxes if they sold their rental property.
Instead, the couple donated their house to UC Davis through a CRUT, enabling them to support causes they care about, while providing income for themselves and their children. The remainder of their gift will benefit the Center for Neuroscience and Betty Irene Moore School of Nursing to support family caregiving research, scholarships for nursing students and new innovative research for early onset dementia.
"Using a CRUT was a smart way to go for us because of our tax situation and our desire to leave something for our children," Camille says.
"The immediate tax saving of donating our house allowed us to get a deduction; a charitable donation which created a regular payment for us," Gary adds. "We receive a lifetime income and then our children will share income from the trust for another 15 years after us."
The Lonigans say they feel good about their gift because they were able to eliminate some of the tax consequences while targeting their gifts to specific areas conducting work that's important to them.
"I personally like the idea of determining and knowing where my money goes," Gary says. "If that's important to you, that's a great reason for doing a CRUT."
Gary and Camille know that UC Davis is more than just a university and hospital; it's a community resource that is an important element in the local economy. While the Lonigans hold nursing close in their hearts, they'd like to see advancements in neuroscience and the future of aging.
"The combination of knowing what works for you is the most important thing and for us, a CRUT was perfect," Gary says. "We are proud to be able to make a substantial impact and would like to see UC Davis grow as a whole."
To learn more about how a charitable remainder trust can benefit you and make an impact at UC Davis, contact the Office of Planned Giving at (530) 754-2286 or plannedgiving@ucdavis.edu.
This article was originally published by UC Davis Development and Alumni Relations. 
Primary Category
Tags