Center for Neuroscience Building Named 'Robert D. Grey Hall'
Name Honors Visionary Leader Who Put CNS on the Map
(DAVIS) The main building of the Center for Neuroscience (CNS) has a new name: "Robert D. Grey Hall" in honor of Robert D. Grey, Provost and Executive Vice Chancellor Emeritus, who served UC Davis and the University of California system for 37 years. The building dedication ceremony was held October 11, 2023.
Biologist and university leader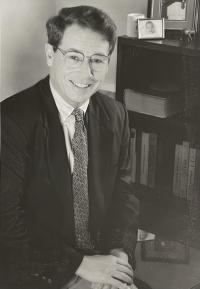 Grey, a biologist with expertise in cellular and molecular mechanisms of reproduction, first joined the UC Davis faculty in 1967 as an assistant professor of zoology. Throughout his distinguished career, he held numerous positions including professor; department chair; dean; provost; executive vice chancellor; interim chancellor, UC Riverside; interim systemwide provost; advisor and mentor to generations of students and faculty. Grey retired in 2001.
First interdisciplinary research center at UC Davis
During his tenure as the first dean of what was then the Division of Biological Sciences (1985­ –1993), and is now the College of Biological Sciences, Grey initiated planning for CNS and appointed its first director, Michael Gazzaniga, a leading cognitive neuroscientist, author and member of the National Academy of Sciences.
"I thought we should invest in a new frontier. UC Davis had almost no presence in what was then called neurobiology," said Grey. "I believed that even though we were not invested in that, we should be."
The CNS was established in 1992 as the first interdisciplinary research center at UC Davis and one of the first neuroscience centers in the country.
Today, CNS is the interdisciplinary hub for neuroscience research and training at UC Davis. Led by teams of internationally recognized scientists, the center is dedicated to understanding all levels of brain development, function and dysfunction.
"Bob's vision for establishing the Center for Neuroscience at UC Davis has led to a dramatic expansion of neuroscience across campus, with over 300 UC Davis faculty currently working in this field," said Kimberley McAllister, professor of Neurology and Neurobiology, Physiology and Behavior and director of the Center for Neuroscience. "This is a remarkably impactful legacy."
Promoting interdisciplinary research and collaboration
Since CNS was first established, other centers have been created by its faculty using a similar model. The first was the MIND Institute, which was established in the UC Davis School of Medicine. Then the Center for Mind and Brain was established in the College of Letters and Science. Most recently, the Center for Neuroengineering and Medicine was established in the College of Engineering, and the Institute for Psychedelics and Neurotherapeutics was established in the College of Letters and Science.
"We are indebted to Bob Grey for establishing the interdisciplinary center model at UC Davis," said Mark Winey, dean of the College of Biological Sciences. "His vision has helped our campus remain at the forefront of scientific leadership and innovation, and our research centers help attract leading researchers from across disciplines. Bob's legacy is, in part, the ongoing excellence of our centers." 
An impactful legacy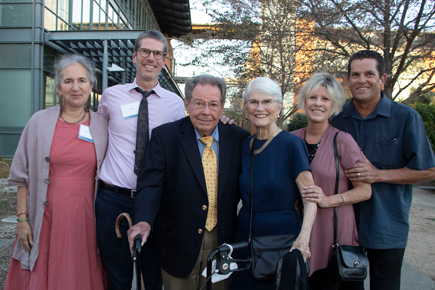 Pillars of the Davis community for over 50 years, Grey and his wife Kathleen's lifelong commitment to helping UC Davis students succeed has been unwavering. Grey's impact was recognized by both the Distinguished Teaching Award, bestowed by the Academic Senate, and the Magnar Ronning Award for Teaching Excellence, nominated and selected by UC Davis students. Kathleen, who has also been a tireless supporter of the UC Davis community, worked as a program director at the Early Childhood Laboratory on campus for more than a decade. In recognition, she received the Committee for Early Childhood Needs annual award for her contribution to children and families in Yolo County.
In addition to their exemplary service, the Greys made a planned gift of $1 million to CNS to ensure strategic funding and long-term support for its future success.
The Greys' gift to UC Davis supports its comprehensive fundraising campaign, Expect Greater: From UC Davis, For the World, the largest philanthropic endeavor in university history. Together, donors and UC Davis are advancing work to prepare future leaders, sustain healthier communities and bring innovative solutions to today's most urgent challenges.
"Bob Grey is a visionary leader who helped UC Davis become one of the best universities in the nation," said Mary Croughan, Provost and Executive Vice Chancellor. "He was innovative and strategic, recognized our greatest strengths, and wasn't afraid to try something new if it could contribute in even greater ways to society and the world. Bob has created an incredible legacy that has greatly benefitted UC Davis and higher education as a whole."
"The thrilling beauty of it all is that the Center for Neuroscience served to strengthen the neurosciences broadly cast throughout the entire Davis campus," said Grey. "At the start, we were not on anybody's map at all. Now we're on lots of maps."
Media Resources
Kimberly Cummings, Center for Neuroscience, kpcummings@ucdavis.edu
Tags