Preparing the next generation of vision scientists
Our specialized, interdisciplinary training program in the basic science of vision is funded by a NIH Ruth L. Kirschstein National Research Service Award Institutional Research Training Grant (Parent T32). Each year we select PhD students from the labs of our participating Faculty Mentors to receive training support.
The Vision Science Training Program is premised on the view that the next generation of vision scientists must have a firm grounding in the basic sciences of their research area, an understanding of the multidisciplinary approaches to vision science, and meaningful exposure to the clinical vision problems remaining to be solved. In this way, trainees will have the tools to integrate across several areas of vision science and a broad framework for addressing important scientific and health care issues. 
Established in 2003, our Program includes more than 20 faculty from 9 departments across 5 schools/colleges and 5 graduate programs. Faculty cover a broad range of scientific endeavors, from structural and molecular biology to human perception, and from cornea to cortex. Together, we advance the health and science agendas of the NIH/NEI by broadening the research perspective and skills of the future biomedical and academic workforce. In the last 10 years, 40 of the 46 trainees (87%) continued in research or research-related careers.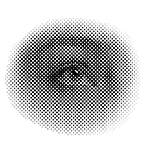 How to participate
Are you a faculty member or predoctoral student interested in being part of the Training Program in Visual Science? Click here to learn more about program activities and eligibility requirements.
Grant: T32 EY015387, National Eye Institute, Ruth L. Kirschstein National Research Service Award (NRSA) Institutional Research Training Grant (T32)
---
Antique eye illustration in opened notebook" by 221A, "Halftone pattern illustration of a young woman's eye" by GeorgePeters, iStock.