International Society Honors Memory Research Pioneer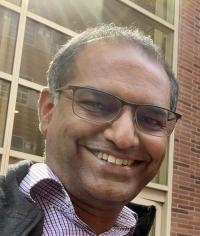 Charan Ranganath, a professor of psychology, core faculty member at the Center for Neuroscience and director of the UC Davis Memory and Plasticity Program, has been selected for a Psychonomic Society 2022 Mid-Career Award for his research on the science of human memory.
Ranganath is one of three scholars worldwide chosen to receive the award from the international society.
A UC Davis faculty member since 2002, he is a pioneer in the use of technology like functional magnetic resonance imaging to investigate the brain mechanisms involved in memory.
Ranganath's Dynamic Memory Lab uses computational models and multiple neuroscience and behavioral methods to research how we remember complex events and how we use memory in navigation and goal-directed behavior. He has also studied how memory is affected by emotion, stress and curiosity, as well as age-related changes in memory, and effects of memory disorders like epilepsy, stroke, schizophrenia and Alzheimer's disease.
Ranganath will be recognized at the Psychonomic Society's annual meeting in Boston in November. The award comes with a $2,500 cash prize.
A version of this article was originally published on the College of Letters and Science website.
Primary Category
Secondary Categories
Tags